Timo Aava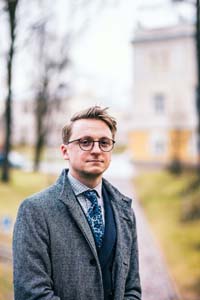 Timo Aava
Timo Aava studied history at the University of Tartu and obtained his Master's degree in 2015. He has carried out additional studies in Berlin (FU), Kiel (CAU) and London (UCL). In May 2018 he joined the European Research Council-funded project NTAutonomy which was hosted by the Austrian Academy of Sciences. In September 2019 he moved to the Department of East European History of the University of Vienna together with the NTAutonomy project team. His advisors are Ass.Prof. Börries Kuzmany and Pärtel Piirimäe (University of Tartu).
Research Interests: history of political thought, cultural transfer, 19th and 20th centuries, history of the Baltic States with a focus on Estonia, nationalism, ethnic minorities
Current Research Project: The Adaptation of the Idea of Non-Territorial Autonomy in Estonia 1900-1940
Timo Aava's dissertation is a part of a larger research project that studies the history of non-territorial autonomy in Europe in the 19th and 20th centuries. Timo Aava focuses on the liberal minority legislation in the interwar Baltic States and more specifically in Estonia. The aim is to trace the intellectual roots of the 1925 Law on Cultural Autonomy for National Minorities from the perspective of the history of political thought, circulation and transfer of ideas. One of the central questions of the study is how national and minority activists, lawyers and politicians interpreted and adapted non-territorial autonomy models in their political activity and theoretical texts. In order to do this, the dissertation focuses both on the reform and autonomy debates during the final years of the Russian Empire, and on the legal and political debates over minority rights in interwar Estonia. Furthermore, the dissertation also studies the interwar international minority protection debates and the proposals for an international minority rights system which were based on the relatively minority friendly Estonian law.
Publications:
Aava, Timo (2016). Imperialism, internatsionalism ja sotsiaalpatriotism. Mihkel Martna ja Esimene maailmasõda. Eesti Ajalooarhiivi toimetised = Acta et commentationes Archivi Historici Estoniae, 24 (31), 349−368.