Angelina Illes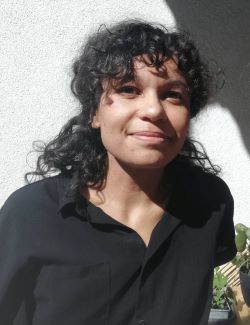 Angelina Illes
Angelina Illes is a PhD candidate at the department of Art History. She studied Art History at the University of Vienna and the University of York, England. During her time in York, she consolidated her knowledge in the study of costume and dress and its potential for art historical research. She has been awarded various travel grants that enabled her to conduct research at the Rijksmuseum Research Library in Amsterdam. In her PhD project, she explores 'Oriental' and 'foreign' costumes in 17th century Dutch painting, especially, in the light of increased textile trade of the Dutch East India Company (VOC). As a participant in the Rijksmuseum Summer School "Museum Objects as Evidence" (2022) she gained valuable experience with different object-based approaches and analytical methods.
Starting in 2020, she is co-founder and organizer of the PhD Lounge in Art History. She is an active member of the Arbeitskreis für Niederländische Kunst- und Kulturgeschichte (ANKK) and since 2021 part of the social media team. Since October 2022, she is co-producer of the podcast "Doctor it!". Alongside her studies, she has worked and gained practical experience in various museum, gallery, research and teaching capacities.
Research interests: Dutch 17th century painting, representation of 'Oriental' costumes and 'foreign' clothing, history of costume and dress, VOC trade, cross-cultural relations, post-colonial studies, material culture, materiality, digital art history
Current research project: Fashioning Orientalism: 'Foreign' costumes in 17th century Dutch painting
In early modern painting, 'foreignness' was primarily conveyed through garments. Until today, clothing is a carrier of cultural significance, particularly based on its potential for (cultural and/or social) distinction and identity formation. Throughout the 17th century, Dutch painting shows an extraordinary increase in 'exotic' motifs, including 'Oriental' costumes and 'foreign' items of dress. They no longer only appear in history scenes, but also found their way into other genres of painting for the first time. This phenomenon coincided with the enhanced trade of the Dutch East India Company (Vereenigde Oostindische Compagnie, short VOC), founded in 1602 and responsible for textile imports from different Asian regions. Although the painted garments are an obvious (cultural) signifier, they are rarely studied seriously in scholarship.
An extraordinary fascination, for instance, can be seen in works by Rembrandt and his circle, but also in the small oeuvre of Vermeer. In representative case studies from different genres of 17th century Dutch painting – spanning the period of the VOC's primacy in Asia – the pictorial functions and meanings of 'Oriental' garments are investigated. A combination of art and costume historical approaches are used to gain a better understanding of garments in images as well as in their socio-historical context. This involves the study of a variety of pictorial, sartorial, and textual sources. The aim of this project is to gain a better understanding of the 'Oriental' and 'foreign' character of the costumes and the terminology used for them in the context of this period. Additionally, the potential of the costume historical approach contributes on a methodological level to art historical research.
Publication:
The Fascination with Japanese styled gowns at the beginning of the 18th century: a quantitative perspective, in: Journal of Historians of Netherlandish Art, 15, Spring 2023 [forthcoming, in peer-review]
Papers presented:

From gift to luxury good – Japanese gowns and its variants in 17th century Dutch painting, 'Consumption of everyday goods in social spaces in the pre-modern period' 6th annual conference of the Working Group "Materielle Kultur und Konsum in der Vormoderne", Department of Economic and Social History, University of Vienna 7 – 9 July 2022.