Lonneke Delpeut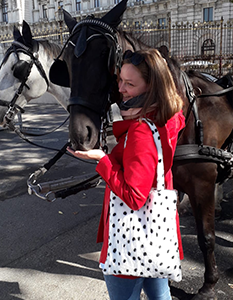 Lonneke Delpeut
I am a PhD-student at the Institute of Egyptology, specialising in the art history and visual culture of ancient Egypt. I did my BA in Ancient Cultures of the Mediterranean World - Egyptology and my MA in Classics & Ancient Civilisations - Egyptology at the University of Leiden. I've spent an Erasmus-semester at the University of Liège in order to specialise further in Egyptian art history and did a 6-month internship at the Egyptian Museum in Turin. My BA-thesis was about the role of the image of the horse as a status symbol in Egyptian private tombs, looking at how images of horses were used by the tomb owners to show how special they were. My MA-thesis specialised more in visual studies and looked at images of horses as a source of information by differentiating what is depicted from how it is depicted. My PhD project proposal is a direct result of the work done in my MA-thesis. I've been very luck in being able to combine both my passions for horses and ancient Egypt in my BA and MA-thesis.
Research interests: visual studies, art history, equine history, ancient Egypt, image studies, Egyptian private tombs, New Kingdom
Current research project: A picture is worth a thousand words - an analysis of the communicative use of Ancient Egyptian tomb decorations
Depictions in Egyptian private tombs can be considered as a form of communication from the tomb owner to the observers, with the artisan as executor. When studied, tomb depictions are often considered to function similar to a written language, as purely symbolic imagery or as a literal representation of reality. This project aims to discover the communicative qualities of these images by studying their image composition and the societal system they function within.
First, it will analyse the image composition by identifying the image content (representation). Representational depictions are composed of significant and specific attributes. Secondly, the creation of an image referent is studied. The image referent is what the artisan specifically refers to with the depiction of the subject, i.e. the specific subject (object or person) they want you to identify within the image. Thirdly, this project aims to show that these images are part of a system embedded in society based on recognition and perception, as well as how this system works. The visitors are supposed to recognise subjects and scenes correctly. In order for this to work, the tomb owner, artisan and observers need to stick to a system which depends on canon and decorum. The works of Wolfram Pichler, Ralph Ubl and Norman Bryson will form the groundwork for this project.
The scope of this research will be the decorated tomb chapels of private tombs of the New Kingdom (1539 - 1077 BC). Several tombs from different necropoleis will be used as case studies, which makes the results of this research project more representative than using tombs from one necropolis. Many of these tombs, especially in Saqqara, Thebes and el Kab, are well-published and accessible on-site. The published material is easily available.
Publications:
'What makes a Horse a Horse? Configurational Aspects of Ancient Egyptian Equines', Cheiron: The International Journal of Equine and Equestrian History: Nov. 2021, Trivent Publishing: Hungary.
2021, The Role of the Horse in Ancient Egypt: In Society and Imagery, in: Recht, L, Zeman-Wisniewska, K., Animal Iconography in the Archaeological Record - New Approaches, New Dimensions, Equinox eBooks Publishing: UK.
with Hettema, H., 2021, Ancient Arabian Horses? Revisiting Ancient Egyptian Equine Imagery, in: Cárcamo, M.A., Casado, R.S., Orozco, A.P. (eds), Current Research in Egyptology: Proceedings of the Twentieth Annual Symposium, University of Alcalá, 17-21 June 2019, Archaeopress: UK.