Chiara Reali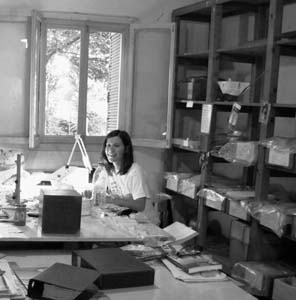 Chiara Reali
After a Master's degree in Near Eastern Archaeology with a thesis about non-Egyptian elements in the material culture of Tell el-Dabʿa (Egypt) and a postgraduate specialisation in architecture for archaeology, both earned at Sapienza University – Rome, I moved to Department of Egyptology of the University of Vienna to start a PhD research on administrative material from Tell el-Dabʿa. Along with the expertise in the archaeological record acquired through years of fieldwork experience on archaeological sites in Europe and Egypt, my academic education supplied me with research competencies and skills in different areas of interest within and between Egyptology and Near Eastern Archaeology. Currently, I am the last writing phase of my dissertation work
Research Interests: Late Middle Kingdom and Second Intermediate Period glyptic in Egypt and the Levant; seals, sealings, and further ancient administrative materials; sealing practices; ancient administrative systems; interactions between Egypt and the Near East in the Middle Bronze Age; material culture studies; cultural diversity.
Current Research Project: Sealings, seals and further administrative material from Area R/III ('Ezbet Rushdi III) at Tell el-Dabʿa (Avaris). An analysis of sealing practices in 2nd millennium Egypt based on a functional and iconographic evaluation of their administrative tools
Supervisors: Prof. Peter Jánosi (University of Vienna); Dr Romina Laurito (National Etruscan Museum at Villa Giulia – Rome) My research deals with ancient administrative materials discovered at Tell el-Dab'a in the Nile Delta, which hosted Avaris, the capital city of the Hyksos dynasties during the Second Intermediate Period. The materials I investigate mainly consist of sealings, clay lumps used to close containers and ensuring the control and record of any withdrawal of their contents. Such administrative material allows me to study the everyday administration of ancient Egypt and its users. The seal designs stamped on sealings enable the identification of the individuals involved, their amount, affiliations and duties, also highlighting cultural connections between the population of Avaris and other communities in/from the Levant. The impressions of the sealed items on the sealing clay supply information about the nature and variety of the sealed containers/objects. Finally, the cross-check between iconographic and functional data reveals administrative operations patterns that help to outline the kind of administrative system, operating at Tell el-Dab'a in the 2nd millennium BC.
Publications:
(with Forstner-Müller I.) King Khyan and Avaris, Some Considerations Concerning Khyan Seal Impressions from Area R/III at Tell el-Dabʿa, in: Forstner-Müller I., Moeller N. (Eds.), The Hyksos Ruler Khyan and the Early Second Intermediate Period in Egypt: Problems and Priorities of Current Research. Proceedings of the Workshop of the Austrian Archaeological Institute and the Oriental Institute of the University of Chicago, Vienna, July 4–5, 2014, Ergänzungshefte zu den Jahresheften
Egyptian-Levantine Cultural Contacts: Considerations about the Iconography of Female Deities on the Sealings from Avaris and Cultural Diversities, in: Milevski, I. (Ed.), Cultural Diversity in World Archaeology, Claroscuro 16, Revista del Centro de Estudios sobre Diversidad Cultural, Portal de Publicaciones Científicas y Técnicas - Open Journal, Rosario 2017, 1–51
The Seal Impressions from ʿEzbet Rushdi, Area R/III of Tell el-Dabʿa: Preliminary Report, in: Egypt and the Levant, XXII-XXIII, Publishing of the Austrian Academy of Sciences, Vienna 2013, 67–73