Gabriele Hackl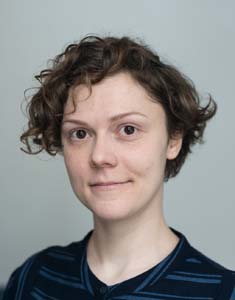 Gabriele Hackl
Gabriele Hackl studied History (of the New Ages) at the University of Vienna and the Erasmus Universiteit in Rotterdam, and earned her Master's in History from the University of Vienna in 2015, with a thesis on "The National-Socialist Penal System and the Waldheim Women's Prison in Saxony". She did traineeships at the Memorial Sites Münchner Platz Dresden and Bautzner Straße in Dresden and was a research assistant at the Austrian Society of Contemporary History. She is currently a DOC-Scholar of the Austrian Academy of Science at the Department of Contemporary History at the University of Vienna, working on her PhD project "Women and men before the Special Court of Vienna" (working title).
Research interests: The Nationalsocialist Regime, Social History, Gender and Women's History; Jurisdiction and Penal Systems, War Economy and Forced Labour; Praxeological Approaches and Digital Tools (Digital Humanities).
Current research project: "Women and men before the Special Court of Vienna" (working title)
In her PhD thesis "Women and men before the Special Court of Vienna" (working title) Gabriele Hackl examines the workings of the Special Courts (Sondergerichte) in the district of the Higher Regional Court in Vienna, which played a major role not only in political but social oppression during the Nazi period. The focus of the project lies on the (previously informal) criteria of jurisdiction – like gender and body related concepts or ideas prevailing to racist discourse – that could decide the fate of a person targeted by the Nationalsocialist Regime. These people could be "alien" to the so called people's community or former "Volksgenossen"/"Volksgenossinnen". The questions are posed, if and how the concept of the people's community was guiding the judges and lawyers in annexed Austria as they assessed criminal and 'asocial' behaviors or persons. Gabriele Hackl mainly works with paradigms formulated by Gender Studies, like 'categories of difference', 'intersectionality' and 'agency'. Categories like "race", class, gender and body, and their role in the jurisdiction of the Special Courts are going to be discussed in the thesis.
Publications:
together with Bernhard Perz and Alexandra Wachter (Hrsg.innen): Wasserstraßen. Die Verwaltung der Donau und March 1918–1955, Wien/Köln/Weimar 2020.
Women in Waldheim. An Introduction, on: Günter Reisch/Günther Rücker (Reg.), Die Verlobte, Deutsche Film AG 1980, Amherst (USA) 2017.
together with Birgit Sack: Das Frauenzuchthaus Waldheim (1933–1945), (Zeitfenster, Bd. 10), Leipzig 2016.