Marei Döhring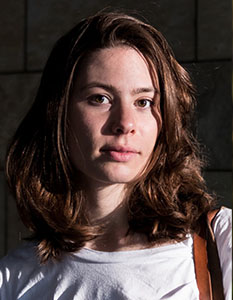 Marei Döhring
Marei Döhring is a uni:docs fellow at the University of Vienna and is writing her PhD-thesis on early 20th century picture frames. Her primary research centers upon the emergence of coloured/non-gilt artist frames that increasingly replaced ornate gilt frames in European avant-garde exhibitions at the turn of the century. During her studies she worked as a researcher for a frame workshop, where she gained practical knowledge on frames and further built her expertise in that field. In this position, she carried out framing projects for international museums, such as the Albertina (Vienna), the van Gogh Museum (Amsterdam) and the Munch Museum (Oslo). She received her degrees in Art History at the Ruprecht-Karls-University in Heidelberg and at the University of Vienna. From 2017 to 2018 she was a member of the FWF-funded research project "Exhibitions of Modern European Painting 1905-1915". In her subsequent position as a University Assistant ("prae doc") (2018-2019) for Prof. Raphael Rosenberg she continued to conduct research for the team and helped to develop an exhibition database while also teaching and supervising undergraduate students.
Research interests: Picture frames, 19th and 20th century exhibition history, display strategies in exhibitions, museums and galleries.
Current research project: Framing the Avant-garde (working title)
At the turn of the 20th century, many avant-garde artists developed innovative frames that radically differed from the frame conventions of the 19th century. It seems that the function and design of traditional frames, especially ornate gold frames, no longer corresponded to the aesthetic ideals of this new generation of artists. Their frames were created in close dependence on the picture and, moreover, became a surface of artistic expression themselves. The new frame designs were a reaction to profound changes in the works of art, their audiences and sites of presentation as well as newly emerging manufacturing processes. Art history and even frame scholars have not yet undertaken a comprehensive analysis of artists' frames of the early 20th century. Individually designed frames by avant-garde artists are usually only examined on a case-by-case or monographic basis. While theoretical treatises on picture frames do address the function of the frame in relation to the painting, this is usually done without naming concrete examples. This general and ahistorical approach gives the impression that the function of the frame is independent of its design. This dissertation project aims to explore the socio-cultural reasons for the emergence of artists' frames and therefore examines the potential dependence of the frame on its function, the painting within and its presentation in the exhibition space. In addition, an annotated catalogue will provide a representative overview of the various forms of frames in the early 20th century, their regional and stylistic differences as well as their possible developments.
Publications:
Bartosch, C., Burckhardt, D., Döhring, M. A., Mulloli, N. A., Jenni, T. & Rosenberg, R., 2019, Revista de história da arte, 14, p. 215-216.
Bartosch, C., Mulloli, N. A., Burckhardt, D., Döhring, M. A., Ahmad, W. & Rosenberg, R., 2020, The Routledge companion to digital humanities and art history. Brown, K. (Ed.). 1st ed. Routledge, Taylor & Francis, p. 423-434 (Routledge Art History and Visual Studies Companions).