Larissa Mohr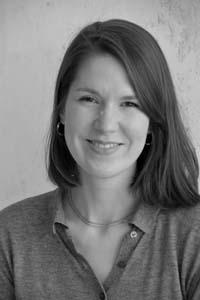 Larissa Mohr
DOC Fellow of the Austrian Academy of Sciences
Larissa Mohr worked in various positions at the Department of Art History in Vienna, teaching as well as taking on organizational and administrative tasks as an academic tutor and study assistant. Since her choice of courses and methodological approach were guided by a combination of practice and theory she enriched her education early on through internships in museums to gain valuable practical skills. In 2020 she co-curated the exhibition "Raffael–Macht der Bilder. Die Tapisserien und ihre Wirkung" at the Gemäldegalerie Alte Meister Dresden. The focus of the exhibition enabled her to expand her expertise on Raphael, which she had laid the ground for in her master's thesis on the preliminary drawings for Raphael's altarpiece called Pala Oddi. In March/April 2022 she was a visiting doctoral student at the Courtauld Institute of Art, London.
Research interests: Renaissance drawings; the function of drawings as a preparatory medium for paintings; the use of model, pattern, and sketch books; dissemination through printmaking; Cinquecento Rome
Current research project: The Drawings of Giovanni da Udine
Although Giovanni da Udine (1487–1561) is undoubtedly one of Raphael's (1483–1520) most important workshop collaborators, his graphic œuvre has not yet been reviewed in depth. During his Roman years, Raphael received such a large number of commissions that his workshop became increasingly important. Even if the organization of the workshop is still being discussed by scholars and there is disagreement about the proportion of assistants' participation in commissioned works, Giovanni's involvement in terms of pictorial motifs appears to be beyond question: On the one hand, the graphic preparation and execution of animal and plant studies in the Vatican loggias and in the frescoes of the Villa Farnesina in Rome can be traced back to him; on the other hand, his profound interest in antiquity is manifested in the design of the stucco all'antica and the grotesques seen in the loggias. Although research in recent decades has been focusing on his vita and the frescoes and stucco work he has carried out, the draftsman Giovanni da Udine remains beyond our grasp. The aim of the research project is therefore to collect the drawings of his entire creative period, to discuss them in terms of attribution, chronology, and function in a catalogue raisonné—which will be compiled for the first time—and then to systematize them in order to obtain a comprehensive image of the working methods of the draftsman Giovanni da Udine.
Publications:
"Diana Mantuana incidit: Die Kupferstecherin Diana Scultori", in Aus dem Schatten. Künstlerinnen vom 16.–18. Jahrhundert (exhib. cat. Gemäldegalerie Alte Meister, Dresden 2023), Staatliche Kunstsammlungen Dresden, Stephan Koja, Iris Yvonne Wager (eds.), Dresden 2023, pp. 58–75.
Marzia Faietti/Matteo Lafranconi in collaboration with Francesco P. Di Teodoro/Vincenzo Farinella (eds.), Raphael 1520–1483 (exhib. cat. Scuderie del Quirinale, Rome 2020), Milan 2020.
"From Venice to Rome? Giovanni da Udine's Animal and Plant Studies", in Venetian Disegno: New Frontiers, ed. Maria Aresin/Thomas dalla Costa, Paul Holberton Ltd., London 2022 [upcoming].
"A Rediscovered Drawing by Giovanni da Udine", in: Master Drawings, Vol. 59, No. 3, 2021, pp. 345–60 [peer-reviewed].
in collaboration with Staatliche Kunstsammlungen Dresden, Stephan Koja (eds.), Raphael – The Power of Renaissance Images: The Dresden Tapestries and their Impact (exhib. cat. Gemäldegalerie Alte Meister, Dresden 2020/Columbus Museum of Art, Columbus 2020–2021), Dresden 2021.
therein:
- Sheet of Studies with Cranes by Giovanni da Udine, pp. 54–57.
- Seven Catalog Numbers on the Dresden Set of Tapestries, pp. 108–33.
- together with Saskia Wetzig, "Between Inspiration and Transformation: Raphael and Antiquity", pp. 158–75.
also published in German in Raffael – Macht der Bilder. Die Tapisserien und ihre Wirkung, Dresden 2020, therein the following catalog numbers on drawings by Raphael: IX. 2a–b, pp. 412–13; IX. 8 and IX. 9, p. 414; IX. 14 and IX. 15, pp. 415–16; IX. 16a–b, p. 416; IX. 18, p. 417; IX. 19, pp. 417–18; IX. 24, p. 419; XI. 5 and XI. 6, p. 486.
also published in Italian in Raffaello 1520–1483, Milan 2020.
"Einblicke: Raffael – Macht der Bilder. Die Tapisserien und ihre Wirkung", in: Dresdener Kunstblätter, 2/20, Dresden 2020, pp. 83–84.
find more publications in u:cris
Workshops and talks:
"Kranich und Fisch: Über Tierdarstellungen in Raffaels Wunderbarem Fischzug," Early Career-Sektion | Mnemosyne: Ideen, Inhalte, Motive. Visualisierung von Forschungsprojekten als Bilderatlas, Forum Kunstgeschichte Italiens | Interreligiosität: Transformationen des Sakralen, University of Leipzig, March 15–18 2023.

"Giovanni da Udine's Contribution to the Raphael Tapestry Cartoons," Raphael & the Dresden Tapestries Symposium, Columbus State University, Ohio, July 16, 2022.

"Giovannida Udine's Plant and Animal Studies in the Villa Farnesina: Exemplary Life like?," Summer School: Cultures of Science and Art in Rome, Bibliotheca Hertziana (BHMPI) and Royal Netherlands Institute in Rome (KNIR), May 16–27 2022.
Study Course on Theory and Practice of Drawings. Connoisseurship – Collections– Curatorial Practice: Presentation on "Raphael's Pala Oddi. On the Relation of Preliminary Drawings and Predella", Albertina Museum and Department of Art History, Vienna, 2018.
Awards:
2023 Bader Award for Art History (Bader Philanthropies, Inc.), Austrian Academy of Sciences (Österreichische Akademie der Wissenschaften)