Aleksandar Anđelović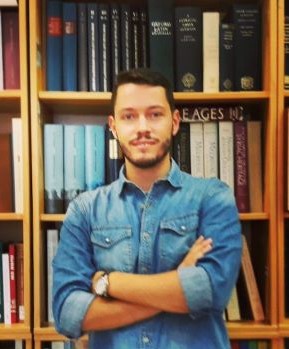 Aleksandar Anđelović
Aleksandar is a classical philologist and Byzantinist. He received his BA and first MA degree in Classics from the University of Belgrade in 2016 and 2018 respectively and in 2021 he obtained his second MA degree from the Department of Medieval Studies at the Central European University in Budapest and Vienna. At CEU he also received an Advanced Certificate from the Center of Religious Studies. He studied Modern Greek in Athens and Thessaloniki, and has actively participated in conferences in Croatia, North Macedonia, Slovenia, England, and Romania. Currently, Aleksandar is a prae-doc research assistant on the ERC-project RELEVEN.
Research interests: education, religion, reception of classics and of the Bible in the late antique and Byzantine eastern Mediterranean.
Current research project: Aleksandar's PhD research project, titled "Crossing Discursive Boundaries: Education and Learning in Michael Psellos' Orations and Letters to Patriarchs and Monks (1050-1078)" aims to offer a thorough investigation of the role of learning and education, both secular and religious, as perceived and employed in the letters and orations of a prominent Constantinopolitan intellectual Michael Psellos within a wide network of Christian literati in eleventh-century Byzantium.
Publications:
"Evagrius of Antioch" in Brill Encyclopedia of Early Christianity [forthcoming, ca. 10 pp.]
"How to Read a Fourth-Century Anonymous Text?" Annual of Medieval Studies at CEU 28 (2022): 11-25.
"Contrastive Linguistic and Cultural Backgrounds of the Two Latin Translators of the Life of Antony." Clotho 3.2 (2022): 5-30.