Nadine Riegler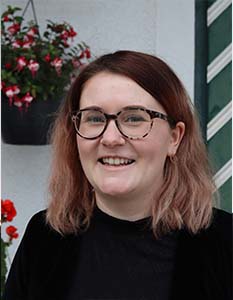 Nadine Riegler
I am a doctoral fellow in Roman history at the University of Vienna. After studying history, classical philology, and classical archaeology, I now specialize in mobility studies in the Later Roman Empire. My research aims at opening up new perspectives in the field of ancient history by including approaches of gender studies and intersectionality.
Research interests: Later Roman Empire, Women's and Gender History in Roman Antiquity, Mobility Studies
Current research project: Gehen oder bleiben? Abhängigkeitsverhältnisse in Mobilitätsgeschichten des 4. und 5. Jh. n. Chr. anhand einer intersektionalen Analyse spätantiker Briefe
In my research project I am looking for mobility stories in literary and documentary letters from the Later Roman Empire. With an intersectional point of view, I am exploring dependencies and underlying power factors in antiquity. The initial questions were: Are women only mobile in dependency on male relatives? Do only women travel in company of other (male) persons? Does only sex play a role for ties and dependency on the move?
The aim of my dissertation is to raise awareness that not only women were dependent when it comes to mobility. In fact, not only sex but also other factors did influence the possibilities and limits of one's own mobility.