Graduate Workshop Late Antique and Byzantine Studies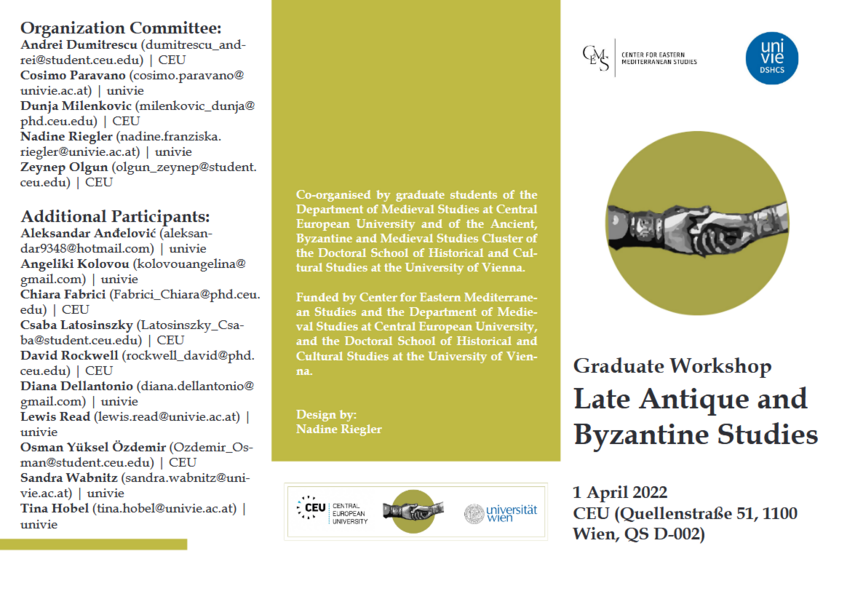 The students of the Department of Medieval Studies at Central European University and of the Ancient, Byzantine and Medieval Studies Cluster of the Vienna Doctoral School of Historical and Cultural Studies at the University of Vienna are co-organising a Graduate Workshop of Late Antique and Byzantine Studies which will take place on April 1st, 2022, in person at Central European University.
The aim of the workshop is to engage the graduate students of the two institutions in a discussion about their current thesis research. The workshop is conceived as a platform to get to know each other, foster intellectual exchange, and explore possibilities for future cooperation in Vienna.
Graduate students of Late Antique and Byzantine Studies from the University of Vienna and Central European University in the fields of history, art history, archaeology, philosophy, religious studies, gender studies, literary studies, papyrology, palaeography, epigraphy, and any other neighbouring disciplines and carrying out their research within the broadly defined frame of the Eastern Mediterranean from 300 to 1500 CE present their current thesis research. A round-table discussion for the participants to plan for future initiatives will follow.
date
1 April 2022
venue
Central European University
Quellenstraße 51
1100 Vienna
QS D-002