Reading Group - Transnational, International, Global History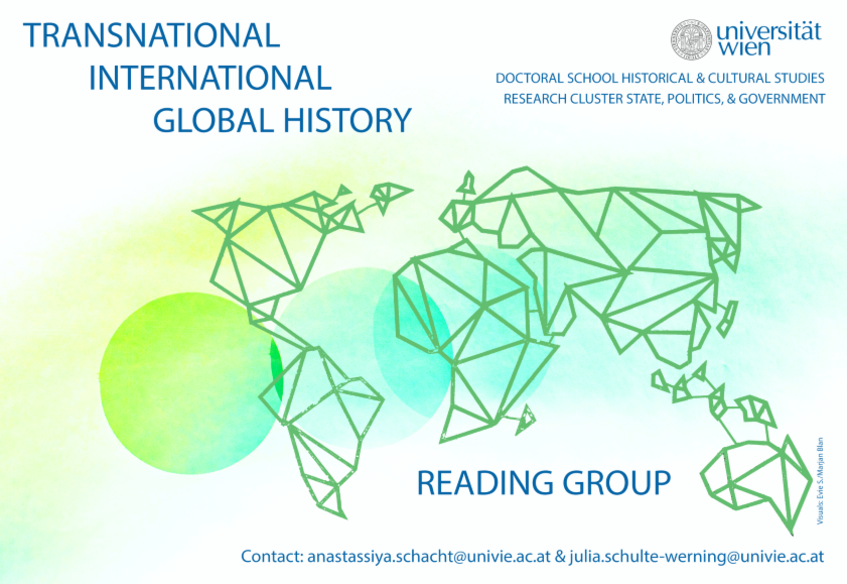 The Reading Group is open to everyone who is interested in discussing secondary and primary literature under the umbrella terms of transnational, international, and global history. We will discuss theoretical approaches, methodological questions, case studies, "classics" and current research – juxtaposing issues such as actors and agency, networks and epistemic communities, ideas and power relations, spatial categories and scales.
What?
We read and discuss selected secondary and primary literature. Everyone is invited to propose texts for the reading list. We are also happy to discuss any work in progress you may wish to present.
How?
The respective text will be made available via Moodle at least one week prior to the Reading Group. Primary language will be English, but we also welcome any other language for reading and discussing, depending on the composition of the group.
Who?
The reading group was initiated by fellows of the Research Cluster State, Politics and Governance in Historical Perspective. PhD candidates from all DSHCS research clusters are welcome. We also encourage PhD candidates from other Doctoral Schools, from other universities (e.g. CEU), and advanced MA students to participate.
When?
Every last Thursday of the month, 10.00am to 11.30am.
Sessions in the summer term 2022:
28.4.
19.5. (the 26.5. is a holiday), 9.00 to 10.30
30.6., 9.00 to 10.30
Where?
Seminar room (Kolingasse 14-16), or online (Zoom), depending on the Covid19-situation. We will notify you at least 1 day prior to the respective session.