Johannes Kleinmann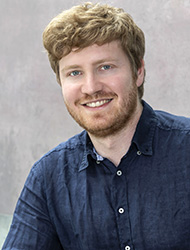 Johannes Kleinmann
Since February 2020 Johannes Kleinmann is a PhD Student at the European-University Viadrina in Frankfurt (Oder) and at University of Vienna.
Between 2011 und 2020 Johannes Kleinmann studied history and economics in Freiburg i.Br., Warsaw and Mainz. His main topics were the so-called transformation in East Central Europe, contemporary Polish, Russian and women's history. Furthermore Johannes is speaker of Junge DGO the network of all member of German Association of East European Studies (DGO) under the age of 35.
Research interest: Gender History, Economic History and the so called transformation process in East-Central Europe. Interested in economic policy issues; currently focusing on contemporary polish History.
Current research project: Workers, Women, Mothers – IMAGES OF WOMEN AND THEIR SOCIO-ECONOMIC CONSEQUENCES IN THE LONG PERIOD OF TRANSFORMATION IN POLAND