Mag. Clemens Ableidinger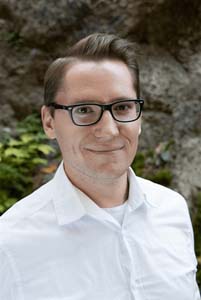 Mag. Clemens Ableidinger
Clemens Ableidinger, born in Amstetten, Lower Austria, studied history as well as English and American Studies at the University of Vienna and the Université de Bourgogne, Dijon. He graduated with a diploma thesis (Mag. phil) on the - social as well as pathological - influence of the First World War on the patients of the lower Austrian psychiatry in Mauer-Öhling. From 2016 to 2017 he worked as a Project Assistant at the Institute for Jewish History, St. Pölten. As a freelance historian, he contributed to the institute's "Sparkling Science"-project on the history of Mauer-Öhling, funded by the Austrian Ministry of Science, Research and Economy. In 2018, he was awarded the Uni:Docs-scholarship for his PhD-project on mental health as policy and discourse during the reign of Francis Joseph I, which is carried out at the Institute of Austrian Historical Research at the University of Vienna. In 2020 he spent a month as a "visiting student" at the European University Institute, Florence.
Research interests: My research focuses on the history of psychiatry in the Habsburg Monarchy during the long 19th Century, in particular on the interplay of psychiatry and politics.
Current research project: Psychiatry as policy and discourse: Establishment and development of mental health as an area of policy during the reign of Francis Joseph I.
In my PhD-project I want to investigate how questions of mental health turned into an area of political discourse, and how, as an area of policy, it developed over the course of Francis Joseph's reign. Employing a combination of historical network analysis and discourse analysis, I aim to identify not only the relevant actors within the policy field but also discover interdependencies between polity, science and public health, both as a policy area as well as a social institution.
My research is being conducted in close cooperation with the FWF-project "The Emperor's Desk: A Site of Policy Making", aiming to contribute to an increase in understanding the many ways policy was being made in the Habsburg Empire.
Publications:
"Das Büro des Kaisers. Neuere Ansätze in der historisch-soziologischen Politikfeldanalyse" (Conference Report). In: Bohemia. Zeitschrift für Geschichte und Kultur der böhmischen Länder 59 (2019) 172-174.
[Forthcoming:] together with Philip Mettauer "Mauer-Öhling 1914-1945". In: Gedenkort Schloss Hartheim (Hg.), Krieg und Psychiatrie. Lebensbedingungen und Sterblichkeit in österreichischen Heil- und Pflegeanstalten im Ersten und Zweiten Weltkrieg (2018).
"Die religiösen Pflichten ihrer Confession". Jüdinnen und Juden in der Kaiser Franz-Joseph-Landes-Heil und Pflegeanstalt Mauer-Öhling 1914-1918. In: Institut für jüdische Geschichte Österreichs (Hg.), Für Kaiser und Vaterland. Jüdische und nichtjüdische Erfahrungen im Ersten Weltkrieg (Juden in Mitteleuropa, Ausgabe 2017) 60-67