Anna Rosa Schlechter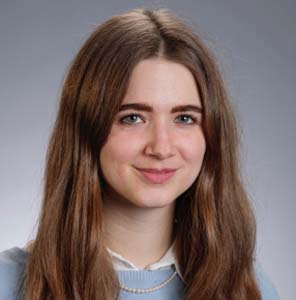 Anna Rosa Schlechter
Anna Rosa graduated from the University of Vienna in Transcultural Communication (ES/FR/DE) (BA) and Jewish Studies (MA) with academic stays in Madrid and Tel Aviv. She is also an alumna of the Diplomatic Academy of Vienna (55th DLG) where she focused on European Studies and the Middle East. In 2020, she enrolled for a master's in Political Science. During her doctoral studies, Anna Rosa has been appointed as Junior Research Fellow at the interdisciplinary Research Center "Religion and Transformation in Contemporary Society" (RaT), as Visiting Fellow at Dartmouth College, the Franz-Rosenzweig-Minerva-Research Center, and the University of Hildesheim. At the moment, she is employed at a The Hague based think tank as research associate and blogs for several other platforms. She will spend the academic year of 2021/22 as research fellow at the Austrian Center of the Hebrew University of Jerusalem funded by the Ministry of Education, Science and Research (BMBWF).
Research Interests: Contemporary Jewish literature and history, Modern Austrian Literature, Cross-cultural Translation Studies, Arab-Israeli peace process, Middle East Studies, EU Foreign Policy, Cultural Diplomacy, EU Enlargement.
Current Research Project: Elazar Benyoëtz zwischen Midrasch und Aphorismus
This dissertation deals with the bilingual and cross-cultural literature of Israeli-Austrian poet Elazar Benyoëtz, born 1937 as Paul Koppel in Wiener Neustadt, Austria. Being the greatest aphorist in the German language and laureate of numerous prizes and awards, his literary work remains underresearched. His recurring topics include God, faith, love, doubt, German-Jewish relations, language, etc. The goal of this dissertation is twofold: firstly, to analyze early Hebrew works of the poet which have so far received very little attention in scholarship, and subsequently, to classify them in his bilingual oeuvre and trace the writer's literary path from Hebrew into German. Secondly, to reveal rabbinical sources and subtexts in the German work of Benyoëtz, which is absolutely necessary to fully grasp his bilateral and cross-cultural literature. Thus, I argue that Benyoëtz's bilingual literature can be read as an intercultural mediation between two languages, religions and cultures – between German and Hebrew, Judaism and Christianity and Israel and the German speaking word.
Publications:
"Ein Satz auf halbem Weg." Elazar Benyoëtz zwischen Midrasch und Aphorismus. In: Chilufim 26 (2019) 45-67.