Stefanie Proksch-Weilguni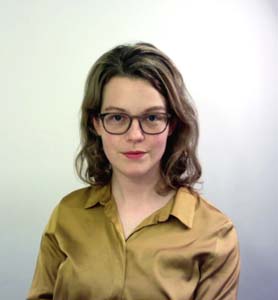 Stefanie Proksch-Weilguni
Stefanie Proksch-Weilguni (*1991) studied art history at the University of Vienna and during an Erasmus semester at the Humboldt-University Berlin. In 2016 her master thesis was awarded the Sir Ernst Gombrich Prize. Since 2017 her dissertation has been conducted in a cooperation of a Cotutelle de thèse with the University of Vienna and the University of Basel. Her research has been supported by a dissertation fellowship of the eikones – Graduate School in Basel. Moreover, the Swiss National Science Foundation, the Maria Lassnig Foundation in Vienna, and the Austrian Cultural Forum in New York funded research stays in New York as well as the University of Chicago and School of the Art Institute Chicago. In the last two years, she curated film screenings at the Stadtkino Basel, Stedelijk Museum Amsterdam and Austrian Film Museum in Vienna and published her research in exhibition catalogues and peer-reviewed journals.
Research interests: Her research focuses on modernist painting, performance art, avant-garde film, art and craft within transatlantic and Eastern European artist networks. Research methods derive from accomplishments of feminist, phenomenological, post-colonial and queer art theory that merge formalist and social art-historical approaches.
Current pesearch project: Maria Lassnig's extension of feminist body art in relation to the women artists' group the Women/Artist/Filmmakers in New York (1968-1980)
The dissertation on Austrian painter Maria Lassnig (1919-2014) focuses on the less researched years between 1968 and 1980, when Maria Lassnig lived in New York and created animated and experimental films. The project aims to confront her painterly with her filmic work and to reconstruct her role in the filmmakers' group of the Women/Artist/Filmmakers (W/A/F) and American's feminist art and film history of the 1970s. Therefore, the project relies on primary sources such as archival and original 16mm film material. Comparative formal analyses and social art historical approaches highlight Maria Lassnig's and women artists' cross-media practices as well as their role within the women's liberation movement. This leads to a broader and feminist contextualization of Maria Lassnig's artistic practice within American and transatlantic art and film history. The dissertation is expected to fill a research gap on Maria Lassnig's films, her involvement in the group of the W/A/F and impact the way art history has been considering women artists' cross-media practices. Instead of reestablishing Maria Lassnig's protagonist role as painter, new examinations of media relations expand experimental film history and challenge established categories of traditional, new media and body art. The dissertation's international and transatlantic horizons will push marginalized achievements of continental feminist art history.
Publications:
"Maria Lassnigs animierte Körperbewusstseinsbilder." In Maria Lassnig. Das filmische Werk / Film Works (German and English edition) in the series Filmmuseum Synema-Publikationen (January 2021), edited by Eszter Kondor, Michael Loebenstein, Peter Pakesch, Hans Werner Poschauko. (in Press)
(2019) Performing Art History. Continuities of Romanian art practices in Post-communist performance, in: Katalin Cseh-Varga (ed.), Photo-Performance, Performance Photography in Real Existing Socialisms, Special Issue, Journal of Contemporary Central and Eastern Europe.
https://www.tandfonline.com/doi/full/10.1080/25739638.2019.1643076
(2018), Körperkunst bewegter Bilder. Die feministische Ästhetik der heterogenen Medienpraxis bei Maria Lassnig und Carolee Schneemann, in: FKW // Zeitschrift für Geschlechterforschung und visuelle Kultur 65, 2018, p. 57-70. https://www.fkw-journal.de/index.php/fkw/article/view/1459