Gerd Mathias Micheluzzi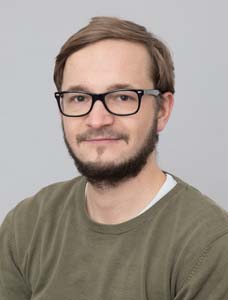 Gerd Mathias Micheluzzi
Gerd Micheluzzi is a Junior Researcher at the Kunstgeschichtliches Seminar, University of Hamburg, where he recently joined the team on the early modern era around Univ.-Prof. Dr. Frank Fehrenbach. Having completed his MA at the University of Graz, from 2016–2019 he was a Junior Researcher at the University of Vienna, where he also works on his PhD project, supervised by Univ.-Prof. Dr. Michael Viktor Schwarz. Gerd Micheluzzi was awarded a Rome-Grant (OeAW), a uni:docs scholarship (University of Vienna) as well as a Marietta Blau-Grant (OeAD), which allowed him to continue his research at the Kunsthistorisches Institut Florenz (MPI) from 2019–2020. Besides various presentations, Gerd Micheluzzi participated in a PhD-exchange with the Courtauld Institute of Art in London, is a member of the Roger Bacon Research society, and together with the fellows of the Vienna Doctoral Academy–Medieval Academy co-organized an interdisciplinary conference on medieval studies in 2019.
Research interests: Gerd Micheluzzi's interests revolve around 14th and 15th century Italian painting, art theory, natural philosophy and literature. Besides his dissertation, Gerd Micheluzzi currently works on issues revolving around medieval concepts of ars and scientia.
Current research project: Function and Genesis of Cast Shadows in Late Medieval and Early Renaissance Painting
Ever since the late 19th century, cast shadows were regarded as constitutive elements of mimetic concepts of art and, in this respect, as distinctive features of Renaissance painting. Accentuating pictorial lighting and central perspective as necessary preconditions, recent art historical research has assumed that cast shadows' post classical return was provoked by iconographic requirements, most prominent within the Cappella Brancacci (c. 1424–27) – especially Masaccio's St. Peter Healing with his Shadow. In contrast, medieval painting was mostly considered as shadowless. Hence, the supposed early modern return of cast shadows was predominantly presented as a creatio ex nihilo. Although this general assumption is challenged by several authentic examples of trecentesque cast shadows, art historical research treats them as exceptions, restorative interpolations or simply ignores their existence. Thus, biased approaches have veiled a tradition, which does not match the dualistic model. As a result, our knowledge about such a basic element of the pictorial organism like cast shadows is still remarkably limited. By shifting the focus to formal and functional aspects of cast shadows, the dissertational project aims to shed light onto developments and basic conditions, which may have served as a starting point for early Renaissance artists. Comprising several case studies, dealing with hitherto neglected examples of early Christianity, late medieval and early Renaissance painting as well as with literary sources like Dante's Divina Commedia or natural philosophy, it will be shown that mimesis was not the peak of a linear evolution but rather one out of a variety of functions, which cast shadows were able to fulfill.
Publications:
together with Kogler, Kristina/Marx, Alexander, Narrare: Reflexionen über die Anwendung von Erzähltheorie auf das Mittelalter, in: Matthias Meyer (Hg.), Narrare–Ordinare – Producere, voraussichtlich 2020/21.
Apostolorum Gloriosissimus Princeps. St. Peter Healing the Sick with his Shadow in Late Medieval painting between the Acts and the Golden Legend, in: Stanislava Kuzmova und Andrea-Bianka Znorovszky (Hg.), Mary, the Apostles, and the Last Judgment. Apocryphal Representations from Late Antiquity to the Middle Ages, Budapest 2020, S. 187–220.
Der Schlagschatten im Trecento am Beispiel von Taddeo Gaddis Verkündigung an die Hirten, in: Zeitschrift für Literaturwissenschaft und Linguistik, 180/2015, S. 98–120.