Verena Hanna Dopplinger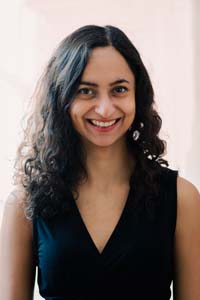 Verena Hanna Dopplinger
After completing a bachelor's degree in Communication Studies and a master's in International Development, she started working on her dissertation at the Institute for Contemporary History, focussing on Visual History, for which she received grants to complete a longer research stay at the Hebrew University of Jerusalem in 2018 as well as a shorter one in 2019. Her fluency in languages such as Arabic, Hebrew and English enables her to conduct her research from multiple perspectives.
Professionally, she has experience in (digital) project management and marketing. She volunteers in academic projects related to intercultural communications and aims to bridge the distance between academia and the professional world, making academic insights available to the general public.
Research interests: The Other in Contemporary History, focussing on visual representations in film and serial productions in the Middle East. Analyses include the religious question, cultural differences, gender perspectives as well as immigration and integration, memory and trauma studies.
Current research project: The Other in Israeli Fictional TV-Series: An Analysis in Contemporary Visual History.
The dissertation project explores the question of the Other within the fields of visual history, television and media studies, focussing on Israeli TV serial productions released within the past fifteen years.
Utilizing various methods, it is argued that through collective memory of the past, the identity of the Other for the respective group is (re-)negotiated. The thus formed memory of historical relations between individuals and groups is then reflected in popular culture, a context in which it is re-actualized with new meanings. In turn, those aspects of collective memory not preserved in current-day culture no longer figure for the formation of in-group and out-group, leading to the possible inclusion of people hitherto thought to be "Others". Thus, be it a religious, national, or ethnic identity, these are constantly renegotiated in a dialogue with the past, both with regard to the group and on an individual level.
The dissertation project then applies this theoretical background to Israeli TV series, especially those distributed through channels such as Netflix, HBO or Amazon Prime. It explores the presentation of men and women, religious and secular persons, Ashkenazim and Mizrahim as well as Arabs and Jews, and seeks to trace the historical echoes found in the presentation of these respective Others, treating the respective historical narratives as intertexts that can be identified within the portrayals. Among the series analysed are Avoda Aravit (2007-2012), Srugim (2008-2012), Hatufim (2009-2012), Ta Gordin (2012-2015), Lehiyot Ita (2013-2018), Fauda (2015-2018), Nebsu (2017), Shababnikim (2017), When Heroes Fly (2018), Unchained (2019), Our Boys (2019), Tehran (2020), Muna (2020) and Valley of Tears (2020) with newer productions being considered as they are released.
Preliminary findings show that the series refer to differing historical narratives and cultural imaginations in their presentations of the primary Other, depending on both the respective series' premise and context.
Publications:
Presentation on "the Other, remembered" at the conference "Media and Memory", held at the Hebrew University of Jerusalem in September 2019.
Presentation on "Mizrahim as soldiers and Black panthers in the Israeli series "Valley of Tears", held at the Virtual Conference on Jewish Immigration in Myth and Reality, Trinity College Dublin in June 2021.