Marco Vito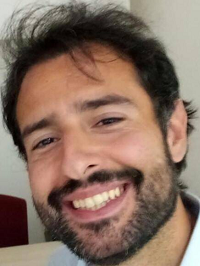 Marco Vito
PhD fellowship Student in Historical Studies in cotutelle between University of Salerno and University of Vienna.
He attended a Higher Training course with an attendance grant at the DATABENC High Technology District for the enhancement of historical, archaeological and cultural assets through the use of new technologies. Graduated with honors in 2018 at the II Level University Master in Public History at Unimore, University of Modena and Reggio Emilia, whose thesis was published in the international journal of history teaching DIPAST of the University of Bologna, as part of the 16th edition of the Festa Della Storia (2019) and of the international conference Orizzonti della Didattica della Storia. He has published some articles on Medieval History and partecipated at differents conference and Doctoral school. Researcher accredited and enrolled in the consultation of the Vatican Secret /Apostolic Archive.
Research interests: history, public history, paleography, interdisciplianry comparison and digital humanities, the exploitation Eurpean's of the historical, artistic and cultural heritage.
Current research project: Letters to the Magnificent and the encrypted Medici documents between 1486 and 1491
It aims to investigate one of the most particular aspects of the circulation of ideas and cultural models of the late Middle Ages, the cryptography. The aim is to bring in light documents kept in the archives, whose encrypted nature has destined them only for archival cataloging. The research aims to reconstruct a documentary process and answer the questions that arise spontaneously: What is written in these documents? What did want to hide the ambassador and for what reason? There were many ciphers, each individual; who wrote in cipher had his cipher and his reading key. Was there a system that linked those who wrote in cipher and the decipherer to a rapid understanding of the text? Was it possible tracing missives encrypted? If yes, was possible to decrypt these without the reading key? What were the consequences?
These questions are asked in the last period of the Middle Ages, when in the fifteenth century these encryption methods, mainly alphabetic, were modified with the addition of homophonic, nullius valoris or numerical signs. In the first case, the ciphers have different signs for the same letter. In the second case they are signs that have no decryption value, but that were used to mislead the translation, in case the document fell into inappropriate hands. In the third case a single number, or a sequence of them, corresponded to a letter, or to letter's group.
The research would like to investigate this aspect, passing from the generic framework of the embassies and focusing on encrypted documents that have not yet been decrypted.
Part of the project its' to create a database of encrypted documents and, by exploiting networking, a virtual archive of medieval encryption could be created.
The research, due to its importance, has an interdisciplinary comparison, for example: to history of diplomacy, to paleography and to military and political history.