Work it!
Career Day 2023 for Doctoral Candidates in the Humanities and Social Sciences

6 June 2023, 11:00 - 19:00 | Kolingasse 14-16 and NIG, Universitätsstraße 7 | organized by the Doctoral School of Historical and Cultural Studies and the Vienna Doctoral School of Social Sciences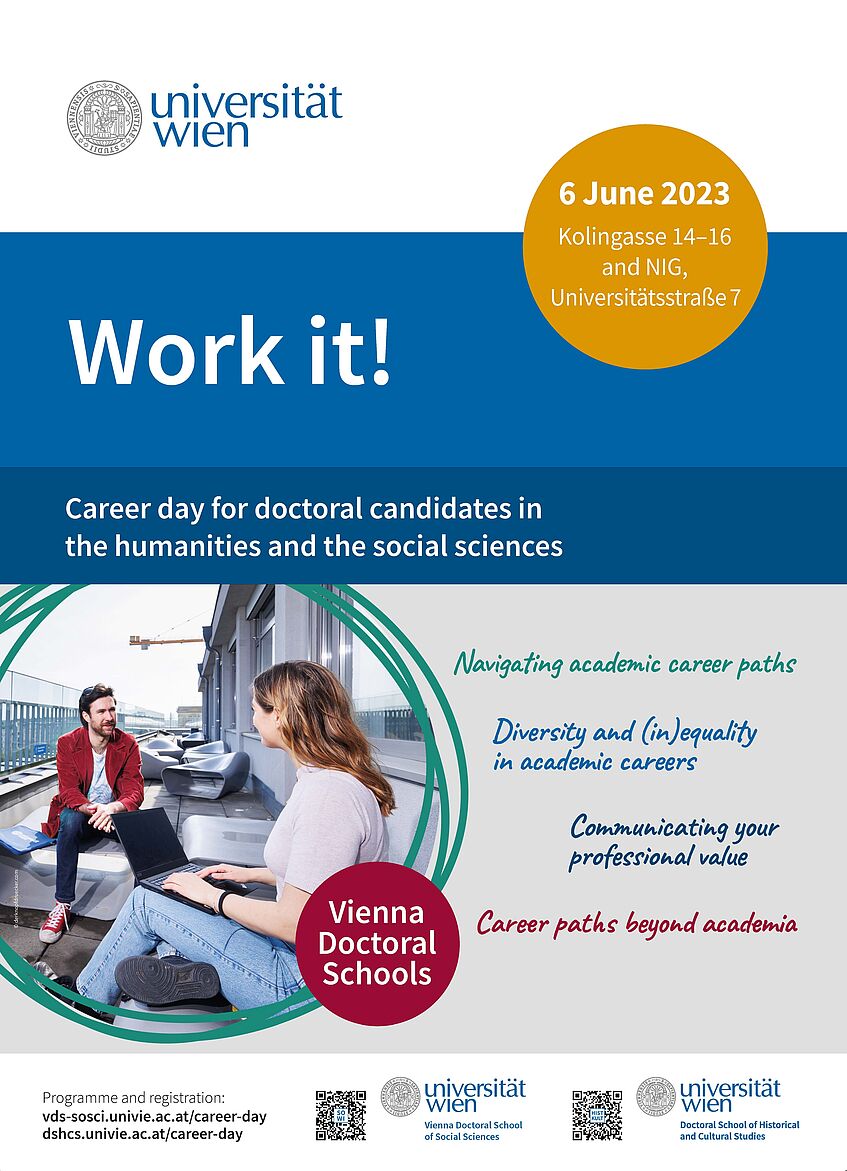 11:00–12:30 Navigating academic career paths. Challenges and strategies
Input and discussion; seminar room 11, OGO1, Kolingasse 14–16, 1090 Vienna
An academic career path can be challenging to navigate, with many complex factors impacting success. In this session, experienced colleagues from the Faculty of Historical and Cultural Studies and the Faculty of Social Sciences share their experiences of starting a career in academia. Two doctoral candidates are invited as discussants to facilitate a broader discussion about how to best find and navigate academic career paths as an early stage researcher. Possible topics include, but are not limited to, effective networking, developing a strong research program and publication strategies, successful collaboration, balancing teaching and research demands and finding your personal work-life-balance.
with:
Francesca Croce, doctoral candidate in Art History
Börries Kuzmany, assistant professor at the Department of East European History
Silvia Ruiz Rodríguez, doctoral candidate in Political Science
Annie Waldherr, professor at the Department of Communication
13:00–14:30 Against the odds. (In)equality in academic careers
Panel discussion; seminar room 11, OGO1, Kolingasse 14–16, 1090 Vienna
How to succeed in academia, a field in which women and minorities rarely make it to the top positions? What challenges do you face as a woman, as a person of color or as someone who is experiencing discrimination based on other identity markers? This session focuses on sharing experiences and best practices for navigating academic life from a marginalized position. Experienced researchers and doctoral candidates discuss topics, such as gender discrimination and white privilege and share strategies of overcoming impostor syndrome and building a support network. They explore the impact of (in)equality in academia on research, teaching and university structures, and they discuss how we can develop research agendas that promote diversity and inclusion.
with:
Dominique Bauer, doctoral candidate in development studies
Ayse Dursun, postdoctoral researcher at the Department of Political Science
Elisabeth Röhrlich, Vice Dean for early career affairs and gender equality and associate professor at the Department of History
Rogelio Toledo Martin, doctoral candidate in Byzantine Studies
15:00–16:30 Communicating your professional value: Application documents and job interviews
Workshop; seminar room 11, OGO1, Kolingasse 14–16, 1090 Vienna
This session focuses on preparing effective application documents and succeeding in job interviews in and beyond a university context. A coach provides tips on how to write compelling motivation letters, CVs, research and teaching statements and other application materials. We discuss how to prepare for (academic) job interviews, including the types of interviews and questions to expect. Participants will receive practical advice on how to present themselves effectively and how to make a good impression during the application process.
Trainer:
Clara-Maria Köck, Uniport
17:00–18:30 Career paths beyond academia: Meet and greet with alumni*ae
World café; HS-A, 4th floor, NIG, Universitätsstraße 7, 1010 Vienna
In Austria, a doctoral degree is considered a pathway to an academic career, but reality is different. The majority of graduates work in other sectors. Join us in this session and talk with alumni/alumnae from the doctoral programmes in the social sciences and the humanities who transitioned from academia to companies, government and non-profit organisations, among other fields. They give advice on how to leverage academic skills in non-academic contexts, highlight key qualifications essential to succeed in their professional field, and talk about how career trajectories of PhD graduates beyond academia often include staying connected to academic networks and research institutions.
with:
Myriam Gaitsch, researcher at FORBA, Forschungs- und Beratungsstelle Arbeitswelt
Dominic Hagmann, archaeologist at ARDIG – Archäologischer Dienst GesmbH and principal investigator at kärnten.museum
Daniele Karasz, co-founder and Director of Search and Shape, Institute for Applied Social Research
Stefan Krause, Ronald S. Lauder Director, Imperial Armoury, Kunsthistorisches Museum Wien
Claudia Macho, writing coach
Florian Oberhuber, senior consultant, public relations at SORA, Institute for Social Research and Consulting
Deniz Seebacher, associate partner at Timmermann Group
Monika Sommer, Director of the House of Austrian History
Registration: via e-mail to dshcs.hkw@univie.ac.at until 30 May 2023